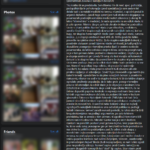 Vsake toliko časa nas, zainteresirano javnost, kdo malce poduči o pandemiji. Če kliknete na sliko boste videli cel post, tukaj pa citiram samo dele, na katere se odzivam. Iz nekega razloga ne morem napisati mnenja pod napisanim, pa ga objavljam tule.
"… s stopnjo smrtnosti med 45% do 100% (podatke lahko preverite na spletne strani NIJZa). … Dejstvo je, da je stopnja smrtnosti pri Covidu19 nekaj sto krat manjša od katerekoli bolezni iz te skupine tako, da za uvrstitev v to skupino ni prav nobene strokovne podlage… "
Kako je lahko stopnja smrtnosti nekaj 100x manjsa? 45% je 45 smrti na 100 ljudi. Stokrat manjše je torej 0.5% oziroma 0.25%, oziroma 0.13%. Ne vem za nobeno nalezljivo bolezen, kjer bi bila smrtnost 100%. Kolikor vem je bila najbolj smrtna ebola Zaire z 90% smrtnostjo.
Torej je, po mnenju gospe Ilin razpon smrtnosti nekje od 0.9% do 0.13%. Ali bi lahko gospa Ilin navedla vir iz kje navaja svoje "dejstvo"? Kako je gospa Ilin izračunala smrtnost? Ker očitno ne verjame uradnim poročilom. V redu, prav, vse skupaj je zarota pedofilskih ljudi kuscarjev (QANON), ki nam sporočajo napačne podatke o trenutni smrtnosti. Zanima me ali je to zarota naperjena prav proti Slovencem ali celemu svetu?
Mislim, ali je Medmrežje filtrirano samo, ko pride v Slovenijo ali tudi izven nje? Ker, ko se jaz VPNjam na Dansko ali v VB Ali Nemčijo se spletne strani, ki poročajo o prekuženosti nič ne spremenijo. Hmm. Zgleda torej, da gre za res masivno zaroto, ki obvladuje celotni svetovni zdravstveni sistem in celotno Medmrežje. Še dobro, da si je gospa Ilin vseeno upala spregovoriti. Torej zanima me, če bi bila gospa Ilin pripravljena razkriti od kje dobiva svoje podatke in kako modelira potek bolezni. Ker je videti, da meni, da je pandemije že konec ali pa ima nek tajen in natančen prediktivni model. Kako pa bi drugače lahko že zdaj izračunala koliko ljudi je umrlo zaradi pandemije, ko se bo enkrat koncala?
"Namreč na podlagi tega odloka, ob proglasitvi epidemije Covida19, bo [SIC]valada imela pravico odrediti tudi obvezno ali celo prisilno cepljenje ali zdravljenje."
Aha, videti je, da hipokratova prisega in zdravstvena etika za določen del zdravnikov ne veljajo? Torej gospa meni, da je treba zdraviti samo tiste ljudi, ki lahko na to pristanejo? Ne gre torej za reševanje življenj, ampak za to ali lahko denimo nezavestna žrtev prometne nesreče pristane na to, da ji zdravnik reši življenje?
Sprašujem se kako bi lahko gospa ohranila službo v psihiatriji, če meni da je ukrep prisilnega zdravljenja akutno shizofrene osebe ne obvezuje, da jo zdravi? Ah, gospa ne dela na psihiatriji, kot vidim iz javno dostopnih virov. Vidim tudi, da nima ne vem koliko recenzij svojega dela. Vsega skupaj sem našel eno, ki pa je sicer res zelo pozitivna.
Namenoma se ne nanašam na podtaknjeno anti-vaxxersko logiko. O tem ne nameravam razpravljat, razen, da bi morda omenil, da družbena pogodba (DP) predvideva tudi to, da se ne morem vseliti nekomu domov, tudi če mi je njihova hiša ampak res zelo všeč in menim da bi lahko svobodno živel samo v njej. Ravno tako mi DP prepoveduje, da bi pobil vse, ki mi res najedajo z abotnim razmisljanjem. Torej DP omejuje moje lastne svoboščine v zameno za elektriko, toplo vodo in šolanje za mojega otroka, če malo popreprostim.
Popolnoma se strinjam, da bi morda lahko pustili vsem, ki se ne bi radi cepili, da tega ne naredijo, pod pogojem, da jih recimo izselimo na kak otok, npr. na Bled in jim prepovemo fizične stike z ostalo populacijo, kjer se eni ne morejo cepiti, ker je njihov imunski sistem preveč prizadet.
Covid19 po strokovnih argumentih (na katerih temelji opredelitev te skupine nalezljivih bolezni z posebnim statusom), nikakor ne sodi v to skupino bolezni, ki bi do takšne stopnje ogrožalo preživetje populacije, da bi tako grob poseg v temeljne pravice bil utemeljen.
Kateri argumenti pa so to? Jih gospa lahko našteje? In pojasni z dokazi zakaj COVID ne sodi v to kategorijo? Ko gospa Ilin govori o grobem posegu, ali s tem misli obvezno zdravljenje? Uau. Torej, ko odvisnik od prepovedanih drog kot kazen za k.d. ki ga je storil pod vplivom nedovoljenih drog poleg zaporne kazni dobi ukrep obveznega zdravljenja je to grob poseg v njegove temeljne pravice? Ali ne?
Kaj je torej res? Da je obvezno zdravljenje vedno problematično ali, da je z kriminalce in druge degenerirance čisto OK, ne pa za pridne državljane? Obstaja torej nad-rasa, ki se je ne smemo dotikat in tisti, ki niso vredni človeškega odnosa?
Če prav razumem, gre logika torej nekako takole: "Moje osebno mnenje, ki ga ne podpiram z ničemer razen svojimi občutki je, da COVID sploh ni nevaren. Ker mislim da ni nevaren, ni potrebno da ga zdravimo ali se pred njim ščitimo. Ker se ne strinjam s stroko in zakoni to pomeni, da ne bi smeli veljati zame (in vse tiste, ki se strinjajo z mano). Če mi kdo pove, da zakoni veljajo za vse, je moj argument, da ne bi smeli, če bi posegali v 'temeljne pravice' posameznika". Zdaj je vedno bolj jasno zakaj gospa ne dela na psihiatriji, čeprav je psihiatrinja. Psihiatrični bolnik z diagnozo ob hospitalizaciji izgubi kar nekaj temeljnih pravic, recimo do nedotakljivosti, do samo-odločanja, do prekinitve zdravljenja ipd. V tej luči se mi zdi komično kje gospa vleče črto. Jebeš zapornike in psihiatrične bolnike pa njihove temeljne pravice. Ok je, če jih nimajo, ampak to da bi me zdravili proti moji volji, to pa ne!
"O uvrstitvi neke bolezni v skupino najbolj ogrožojočih nalezljivih bolezni ne sme odločati politika na podlagi lastnih interesov, temveč zaradi resnosti posledic, to lahko stori le širši krog strokovnjakov na podlagi argumentov, po zelo tehtnem premisleku, kar se seveda v tem primeru ni zgodilo"
Seveda? Se [o klasifikaciji] ne odloča širok krog strokovnjakov?
https://www.sciencemag.org/news/2020/09/why-covid-19-more-deadly-people-obesity-even-if-theyre-young
https://www.sciencemag.org/news/2020/04/survivors-severe-covid-19-beating-virus-just-beginning
https://www.sciencemag.org/collections/coronavirus
https://www.natureindex.com/news-blog/how-coronavirus-is-changing-research-practices-and-publishing (13000 znanstvenih člankov o COVIDU v zadnjih šestih mesecih).
https://www.who.int/emergencies/diseases/novel-coronavirus-2019/global-research-on-novel-coronavirus-2019-ncov
Ah Dunning – Kruger na delu. Primer za v formaldehid. Ker sem preveč zabit in vase zagledan mislim, da tudi cel svet ne ve nič o stvareh o katerih sam nimam pojma.
"O tem nismo bili informirani niti zdravniki. Minister Gantar nas je z enim kratkim stavkom na poročilih postavil pred gotova dejstva, brez pojasnila (za te, ki ne vedo zakaj pravzaprav gre pri tem) kakšne hude posledice za nas skriva ta politično podstavljena past."
(a) Kako pa gospa Ilin ve kateri zdravstveni delavci so bili informirani? Saj ni zaposlena v zdravstvu. Dobro, mogoče so se z njo pogovarjali kaki bivši kolegi.

(b) A prav razumem, da gospa ni prebrala nobenega od znanstvenih člankov na temo COVID? Na voljo jih je več 10000! Moti jo, da se politika nekaj odloča brez posvetovanja s strokovnjaki, ampak sama ne naredi nič za to, da bi bila stokovnjak. Kar prišel je minister za zdravje in si ni vzel nobenega časa, da bi prav njej pojasnil katera odkritja so vplivala na njegove odločitve in zakaj. Mislim, a Gantar sploh ve kdo je gospa Ilin, da gre kar mimo nje? In kot gospa anekdotično benti ker nje niso nič vprašal, jaz anekdotično vem za nekatere zdravnike ki so jih vprašal. Take, ki na primer, delajo v zdravstvu.
(c) Spet smo pri tem, da gospa meni, da za njo hipokratova prisega ne velja. Kakšne hude posledice bo utrpela, če bo morala izvajati stvari s katerimi se ne strinja, kar srce mi krvavi. Še dobro, da bo v svoji privatni psihoterapevtski praksi morala bolj malokrat cepit ljudi, pa ji ne bo tako hudo.
"Ta odlok vlade skupaj z morebitnim izglasovanjem zakona o nalezljivih boleznih konec meseca, na podlagi prav te uvrstitve, takoj odpre poti možne zlorabe v smislu popolne kontrole nad našimi življenjem, telesom , zasebnostjo in premoženjem."
Bi lahko morda navedla kateri člen to omogoča? Še raje pa kar citirala člen, ki denimo vladi daje moč da odtuji premoženje nekomu. Hmm… po večkratnem branju zapisa, bi v bistvu rad vedel za kateri odlok sploh gre, da si ga lahko sam preberem.
"…Zaradi tega menim, da je umik tega vladnega odloka NUJEN"
Katerega odloka? V tekstu ni naveden, niti ni povezave nanj.
Kje pa sploh je cepivo, ki jo tako straši? Ali ima gospa kake posebne veze, ki ji prišepetavajo kdaj bodo znanstveniki cepivo lansirali? Se gospa sploh zaveda kakšen nor PR je za neko farmacevtsko podjetje, če odkrije cepivo in ga da v javno last? Poleg tega je trenutno v prednosti Univerza v Oxfordu, ki bo cepivo definitivno dala v javno uporabo.
Kdaj je bilo to napisano? A lahko prosim datum?