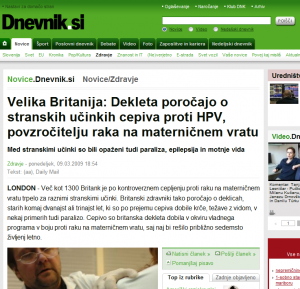 Članek je tule
Večina komentarjev se osredotoča na to kako hudobna je farmacevtska industrija.
10.03.2009
Sklepam, da ste moji predhodnji komentatorji moškega spola? Upam, da ste iz zgornjega članka razbrali, da pride do težav (ne pa do paralize) v 2 promilih primerov. Hujših težav pride v približno 2 promilih, 2 promilov. Torej 1 oseba na vsakih 400.000 ima hujše težave zaradi cepljenja. To je približno pol toliko mogoče kot da v Sloveniji zmagaš na lotu. Pa ljudje vseeno igrajo.
Recimo, da človek v povprečju živi 80 let in da obstaja nevarnost okužbe z rakom m.vr. samo v obdobju, ko ženske ovulirajo torej recimo 45 let. v teh 45 letih v britaniji umre (! in ne zboli) za rakom m.vr. 31.500 žensk. Če privzamemo, da razmerje ona:on v Angleški populaciji 50:50 in da je od teh posameznic približno polovica plodnih, ter da je razmerje relativno stabilno, vidimo da je tudi možnosti, da ženska za časa svojega življenja umre (in ne zboli) za rakom m.vr. približno 2.5 promila.
Če torej povsem popreprostimo enačbo -> če se cepiš zdaj imaš skrajno majhno možnost, da boš imela krče in mikroskopsko možnost da pride do hujših posledic. Če se ne cepiš sedaj imaš podobno majhno možnost, da umreš od raka m. vr. in precej večjo možnost, da dobiš raka, kar, če imaš srečo pomeni, da ti bodo odstranili maternico in boš celo življenje jemala hormonske tablete in ne boš imela otrok.
In kje je tu dilema?
In na kaksen nacin se da iz tega sklepati da so lekarnarji zasluskarji? Saj ne pravim da niso, ampak to res ni dober primer.
[replaced malicious code]